It feels so good to start catching up on all of the amazing weddings and engagements sessions I've been selfishly keeping from you! Enjoy the replay of the Fall wedding season, especially those of you who are, like me, enjoying the oddball weather that is customary to Alabama, as we have not had an a proper winter this year at all!
As for Laura and Billy's wedding, I really loved the gold bridesmaid dresses (and the earrings Laura gave the bridesmaids to go with them!), all of the personalized details the couple included in their day (Laura wore her mom's veil, and included Queen Anne's Lace and Daffodils since her grandmothers carried those flowers in their bouquets), and the vintage getaway car! I loved the construction themed Groom's Cake table, (since Billy works for his family's construction company they included a building plan, a toy crane, a hardhat, and framed photos).  And, it was such an honor to work with Meghan Cease and Dorothy McDaniels again! And I always love the view of the city at The Club. More than anything though, I love that Laura and Billy sent me both sides of their engagement story, it is rare to hear the groom's side and I just love love love every bit of it. I won't even mind if you skip ahead to the end to read their interview before you look at the images. I melted when I read it! Anywho, enjoy these and thank you so much to everyone involved in Laura and Billy's day! I love y'all!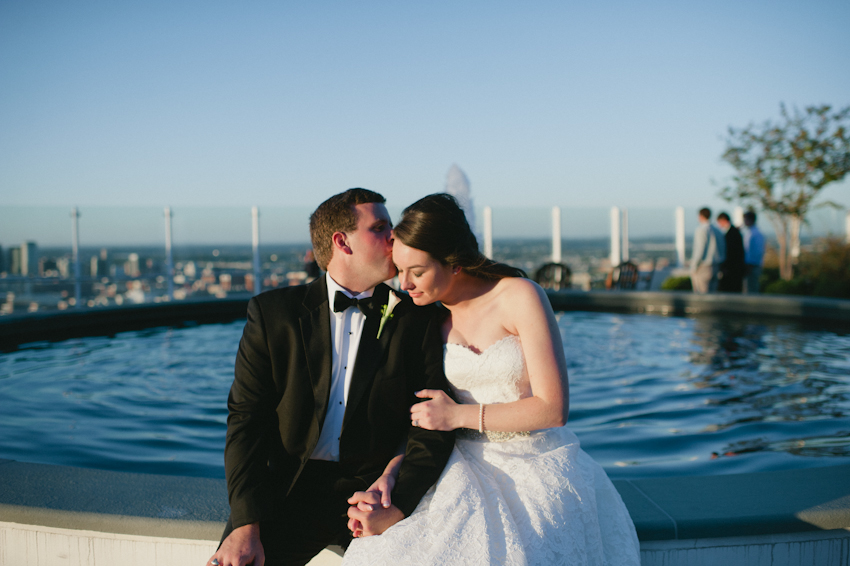 Vendors:
Ceremony Venue: Dawson Memorial Baptist Church
Reception Venue: The Club
Hair and Makeup: Jessica Lavender
Planner/Coordinator: Meghan Cease, M. Elizabeth Events
Reception Music: Blue Denim Band
Cake: Magnificent Cakes
Florist: Dorothy McDaniel
Videographer: Johnny Rockett
Favors: Late night Krispy Kreme donuts
Q& A with the bride (and groom!) [I love that Billy added his side of the proposal story!]
How did the two of you meet and when did you know this was it?!
How we met : Billy and I were introduced by a mutual friend, named Ashley.  Ashley works at CHKD with me and is friends with Billy. About two weeks after moving to Norfolk, I was talking to Ashley about how there were no cute guys around here.  She said that she had a friend that was from Norfolk and would be a great guy to get to know, since he was familiar with the area.   A few days later, I got a facebook message from Billy asking if I wanted to go to dinner.  I said yes and the rest is history!
How we got engaged:
Laura's side of the story:
On December 16, 2011, I flew home to Alabama to celebrate Christmas with my family.  I had such a hard time leaving Billy at the airport. I cried basically the whole flight from Norfolk to Atlanta because I knew that I was going to miss him so much! I had never been away from him for that long.  When I got home, it was wonderful to see my family.  We quickly got into all of our annual Christmas traditions, like making gingerbread houses, going to see movies at the Alabama Theatre and baking holiday goodies!  All of these things kept me busy, but not busy enough to not be thinking about Billy and wishing he was there with me.  On Christmas morning, I got up and walked downstairs to get some coffee and talk to my parents.  They told me that I needed to get dressed up for Christmas this year, because they wanted to take lots of pictures.  I agreed, but really didn't want to.  While we were eating breakfast, the doorbell rang.  My Dad answered it and said it was for me.  As I was walking to the door, I was thinking who is bothering me on Christmas?!?  Much to my surprise, it was Billy!! I was shocked to see him, and the first thing I said to him was, "Babe, What are you doing here?"  After I gave him a hug, he got down on one knee and asked  me to be his wife!  I said yes in between my tears of joy and shaking hands.   I could not have asked for a more perfect proposal.  Billy loves to surprise me and he definitely succeeded with this one!
Billy's side of the story:
October 31,2010 is when it all started in my mind. I had just recently met Laura and taken her to dinner a few days prior. However, it was on this date that I knew she was the one for me! I invited her over to pass out candy to trick or treaters at my house, and thought it was a good way to really 'see' Laura. Even though my sidekick Sydney was jealous at first, I was able to see first hand how Laura interacted with children; she had a smile on her face as she interacted with them and spoke to them like they weren't just kids, but people who were excited about the night. Now, lets fast forward a little bit. Knowing that I wanted to propose to her, I had Michelle Kellam meet up with Laura to do some "retail therapy" at McArthur Mall. Her mission: find the ring size and style that Laura liked. After getting my feedback from her, I hit the ground running. I soon found a ring and set up a meeting with her dad on a random Tuesday morning, just days before Laura was planning on flying back to Birmingham. I met with her dad at Original Pancake House, and was just shooting the breeze until things became quiet. It was at this point that I knew I needed to stop dragging my feet, so out with it I came. "Mr. Crisler, I am here to ask for your daughters hand in marriage?" Well I was hopping for a simple yes, or no, but there were some things we needed to discuss first. As our hour breakfast was wrapping up, I received his blessing, which was one of the happiest days of my life. I knew I would be marrying into a family that would love Laura and I, pray for us, and be there at the blink of an eye if we were in need.
On the way to the airport, I couldn't help but feel relieved. Not only had I gotten the permission of the father of my future bride, but Laura had no idea I was even out of Norfolk! I was home by 4pm and having dinner with Laura at 7pm that night. Things were going according to plan. Now if you know me, you know that I get really excited about secrets and surprises, and this was one that would change the life of Miss Laura Crisler, and myself. Thursday soon came and I had kept it a secret from Laura for 3 whole days! She flew out of Norfolk not suspecting a thing! Amazing. Soon the days started flying by and it was time to make the flight to Birmingham Alabama, Christmas Day 2011. Mr. Crisler and I had arranged the whole thing, I just had to make sure I caught the flights tp get there. Flight one I was the middle seat of a woman with a crying baby who enjoyed hitting me, and some kid who didn't realize tray tables had to go up on takeoff. It didn't start out well. Soon I had landed in the Magic City, where the love of my life was and where I kept imagining that I had lost the ring. I hailed a cab, and I was off. Between texts from my uncle Ellis, and texts from Tom, whose joke "why don't sharks eat clowns? because they taste funny", I was calmer than I thought I would be.
Now the moment was here; I am walking up the path to the door, hoping that Laura had not seen me. As I rang the doorbell, thoughts just race through your head. "What if I fall when I go to one knee? and "Billy, don't mumble". Suddenly the door opens and I see the smiling face of Rob Crisler, and hear " Laura, it's for you!" As Laura approached, she says "babe, what are you doing here?" as she gives me a hug, it was at that point I think she knew exactly why I was there. Soon I was down to one knee asking the most important question of my life to the girl that I would be spending the rest of my life with. "Laura Ellene Crisler, will you marry me?" Between tears of joy and her violent shaking, I was able to put thering on her finger, a momentous occasion for us both. Now, a smart man told me that tears from a man are ok, everyone is entitled to show emotion. It was at this point that we were all expressing tears of joy. I had a new family and I could not be happier about it. Rob and Anita Crisler are people I just click with, and I know this will be the start of a great family.
Tell me about the day:
Billy and I wanted our wedding to feel inviting and warm.  Most of ourguests had to travel long distances to attend our special day. Wewanted the color scheme to be fall.  Our flowers were beautiful!  All in season and had lots of beautiful, rich colors and textures.  We incorporated lots of personal details into our wedding:
–    I wore my Mom's veil
–    I carried the flowers that my grandmothers carried in their bouquets (Queen Anne's Lace and Daffodils)
–    The solo that was sung during the service was the same one that was sung at my parents wedding
–    We had pictures of our parents and grandparent on their wedding days displayed at our reception
–    We had Krispy Kreme doughnuts passed at the reception- our favorite treat!
–    On the table with the grooms cake we had pictures of billy's family's company (crane, rigging and construction) which included blue prints,pictures of billy and his father and grandfather and Billy's hard hat
What do you remember most about the day/what are your favorite memories
from the day? Did anything surprise you?
My favorite memory from our wedding was seeing Billy for the first time and seeing his face as he turned around.  I was very surprised by how calm I was on the day of the wedding.  I am usually very Type A, but I was amazingly calm throughout the whole day.
What advice would you give other brides now that you're official?
My advice is to brides is to enjoy every single second of the process because it will fly by!  Also pick a GREAT photographer because you wont be able to see everything/remember everything that goes one during the day.  The moments that they capture help you to really look back and relive your day! [Aww, thank you Laura!!]
Comments
comments
Powered by Facebook Comments
Tags: 10-25-12, Billy Gresham, Birmingham AL, Blue Denim Band, Dawson Memorial Baptist Church, Dorothy McDaniel, Laura Crisler, M. Elizabeth Events, October Wedding, The Club