Posted on June 25th, 2015 by Kelly Cummings in Events, Styled
Paperless Post contacted me last week to ask if I would be interested in blogging a moodboard for my ideal summer party and I happily obliged; I've loved having an excuse to scour Pinterest while I'm waiting for wedding photos to upload!
Since most of my weekends revolve around weddings I thought an engagement party would be a fun event to plan without straying far from my heart. I (unsurprisingly) quickly fell in love with this champagne bottle invitation in Paperless Post's engagement party selection (Champ Bottle by The Indigo Bunting), (I also highly recommend their selection of wedding invitations, swoon!). I love the deep, bright yellow that reminds me of the shade I picked for my wedding way back in 2009. I imagine this engagement party as a rooftop terrace fête that begins in that coveted golden hour before the sun goes down and finally ends late into the night when the last bottle is emptied.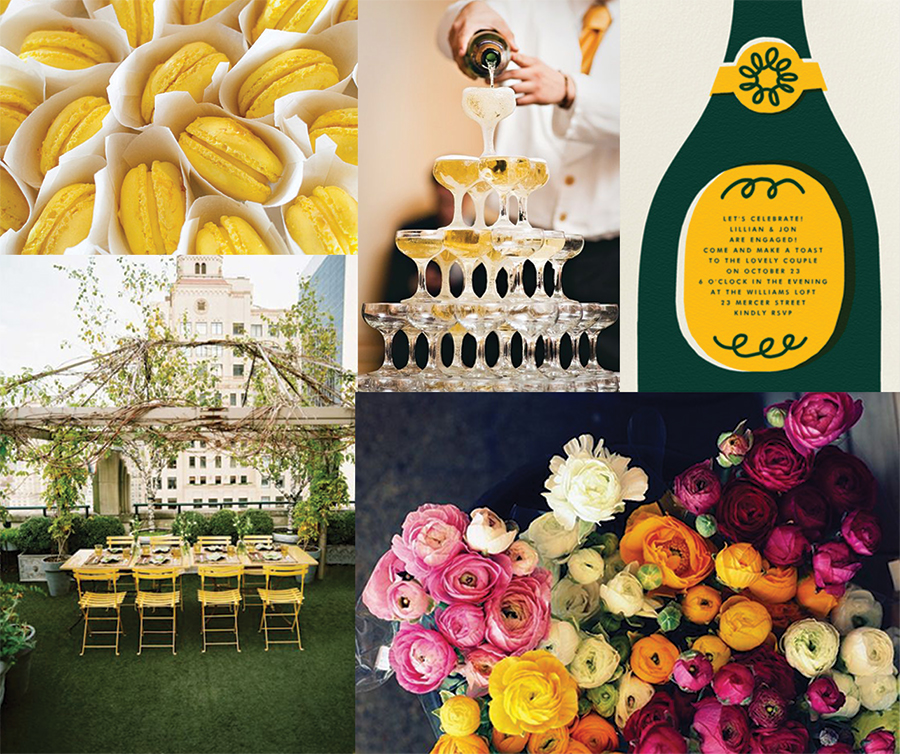 Image Credits: Lemon Drop Macarons via Flower & Flour; Champagne Tower, Maria Vicencio Photography via Brides.com; Champ Bottle Invitation via Paperless Post; Urban garden party with yellow chairs via Lonny; Ranunculus by Sweet Eventide Photography
While my expertise is definitely not on the hosting side of events but I do have a few ideas if you are planning a champagne party this summer:
•Ask guests to bring a bottle of champagne for the couple to pop during the event.
•For a smaller guest list, arranging seating into one long table is lovely and minimizes the need for large arrangements (keep florals low and long and add candles and greenery for extra impact).
•Create a champagne bar with mixes for bellinis or ingredients for your favorite champagne recipes (add a framed recipe for guests to follow if the bar is DIY). A few champagne drink suggestions: French 75, Kir Royale, St. Germain & Champagne.
•Continue the love for champagne's birthplace with macarons for dessert, and consider a playlist of French music-Ces bottes sont faites pour marcher by Eileen is a favorite of mine.
Thank you so much to Paperless Post for asking me to be a part of this summer party series! I hope you all feel inspired for whatever summer party plans you're making, and may they all include champagne!
Comments
comments
Powered by Facebook Comments